This brisket recipes comes from Joe and Christy Poteet of J&C BBQ. To read their full interview on our business owner site click on the link.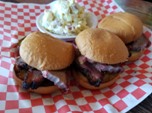 Smoked Brisket Sliders
A brisket recipe to share
1 part black pepper
1 part salt
½ raw sugar
½ granulated garlic.
Trim brisket, season with rib, place on grate, and cook at 225 degrees until internal temp of 165 degrees. Wrap in pink butcher paper and cook until probe tender approx 195-204 degrees. Let rest. Slice and enjoy.