Grilled Salmon with Citrus Salsa Verde.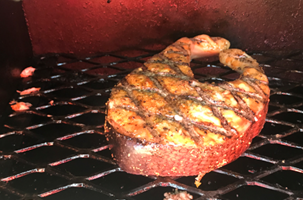 Ingredients: Salsa:
2 large oranges
1/4 cup extra-virgin olive oil
1/4 cup fresh lemon juice
1/2 cup chopped fresh flat-leaf parsley
2 scallions, finely sliced
3 tablespoons chopped fresh mint leaves
2 tablespoons capers, rinsed, drained and coarsely chopped
2 tablespoons orange zest
1 teaspoon lemon zest
1 teaspoon crushed red pepper flakes
Sea salt and freshly ground black pepper
Salmon: 4 center cut salmon fillets or steaks
2 tablespoons amber agave nectar
Kosher salt and freshly ground black pepper
Directions for the salsa: Peel and trim the ends from each orange. Using a paring knife, cut along the membrane on both sides of each segment. Free the segments and add them to a medium bowl. Add the olive oil, lemon juice, parsley, scallions, mint, capers, orange zest, lemon zest, and red pepper flakes. Toss lightly and season with salt and pepper, to taste. Set aside.
For the salmon: I cook the Salmon in my warmer box. With the main chamber at 250 degrees, my warmer is usually around 190 to 200 degrees. Brush the grilling rack with vegetable oil to keep the salmon from sticking. Brush the salmon on both sides with the agave nectar and season with salt and pepper, to taste. Smoke until fish is about 130 degree internal temp then flip once and cook till 145 degree internal temp. It should flake easily and be cooked through. Allow it to rest for 5 minutes. Spoon the salsa verde on top of the salmon or serve on the side.
Ko-Rican Sauce/ marinade (Korea & Puerto Rico fusion) – good for ribs and chicken.
2 tbs Paprika (Spanish or Hungarian)
2 tbs oregano
2 tbs chili powder
2 tbs Madras curry powder
¼ cup sea salt
½ cup white vinegar (rice vinegar)
26 cloves garlic minced
½ cup olive oil
Directions Combine paprika, oregano, curry powder, salt vinegar and oil and whisk well till fully blended.
Read Tim Hence's full interview click here.