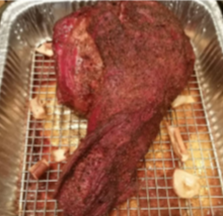 Traditionally the tongue is boiled to make the skin easier to remove, but I skip that part and use a sharp knife along with patience to take it off.
1) Trim the skin off the tongue which allows the rub/smoke to really penetrate the meat.
2) add favorite beef rub to the meat
3) place the tongue in a small foil pan on top of small grate and add 1 whole beer, limes, onions, garlic and fresh rosemary.
4) smoke the tongue as you would a brisket (usually takes about 5-6hrs at 250-275 degrees)
5) Once it hits an internal temp of 180 degrees, I add another beer to the pan and cover in foil until internal temp reaches 205.
6) Once it reaches 205, I remove it from the smoker and let it rest for about 20-25 minutes before slicing/chopping for tacos. Smoked lengua tacos are always a hit.
Read the Mexi"Q"tioners BBQ's full interview by clicking here.