We came across quite an interesting individual located in Wallingford Pennsylvania. Founded in 1687, it's named for Wallingford, England and in 2007, Wallingford was named by Money Magazine as the 9th best place to live in the United States.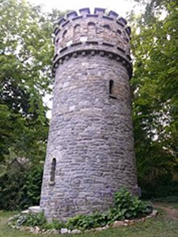 Tower on the grounds of Wallingford's Community Arts Center
That's where Tim Hence runs his business: Black Horse Vet BBQ. Tim told us that the name came from his years in the Army serving overseas with the 11th Armored Cavalry Regiment, known as the "BLACKHORSE" Regiment.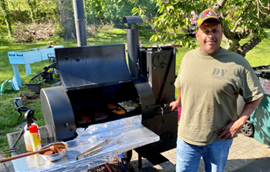 We spent some time asking Tim about his BBQ business:
Lang: What drove you to start this business:
TH: I started this business during the post 9/11 recession originally to augment my income both through catering and BBQ sauce sales and continue a family tradition started by my grandmother.
Lang: Were you cooking/BBQing before you started:
TH: I started making BBQ as a young Army Officer around 30 years ago while stationed Germany. Since there was nowhere to get BBQ near the old east west German Border where I was stationed, I bought my first "Smokey Joe" and made friends with the local butcher at the Metzgarei and have never stopped. I've made BBQ in everything from digging a hole in the ground to my Lang
Lang: Do you have a partner?
TH: My father is my partner in the sauce business.
Lang: What would you say that makes your business unique?
TH: I come from a family of BBQ'ers. My grandmother had a restaurant during the 50's known as Mattie's BBQ in Minneapolis MN. My father worked in her restaurant as did many of my family when they migrated from Jefferson GA. Her BBQ sauce was famous in the region and Kraft attempted to buy it from her, which she refused to sell. The sauce was passed to my father then passed to me and I make and sell her sauce to honor her legacy.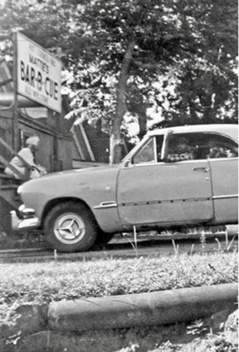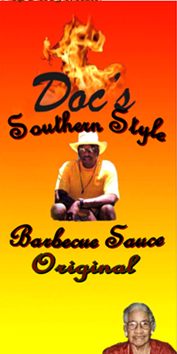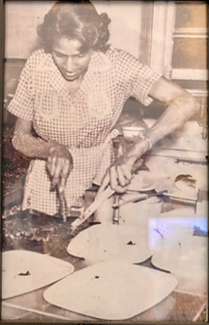 Tim's father and his grandmother in front of the restaurant and at work preparing meals
Lang: Tell us more about the sauce you mentioned.
TH: Well, the story of Doc's Barbecue Sauce goes back to the original version of this barbecue sauce, developed more than 60 years ago by my grandmother, Mattie Broden, born in Jeffersonville, GA. Originally it sold at her restaurant, "Mattie's Barbecue" in Minneapolis, MN in the mid-1950s. She used to say, "it should be good enough to eat on a piece of bread." Doc's Barbecue sauce was derived from her recipe and honors her legacy. Not only is it good enough to eat with just a piece of bread, it goes with just about anything.
LANG: So, you decided to purchase a Lang. can you tell us why?
TH:  I purchased the Lang 36 Deluxe in February of 2018. Before that I was cooking on a store-bought smoker from Home Depot which I highly modified to be able to get consistent temperatures and cooking results.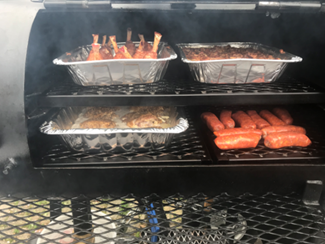 When I finally decided that I wanted to start doing competition cooking I knew I needed a cooker that would reduce my cooking times as well as enable better fire management. After researching the various options for about a year, I settled on the Lang 36 D because of Lang's reputation on the competition circuit plus the fact that it was ¼ steel all around, and the reverse flow design which I believed would meet my objectives. I also wanted to be able to test into the space with this size smoker, with the idea that I could upgrade if I was satisfied. I am most definitely satisfied!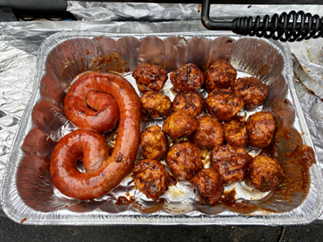 Lang: How are you using currently the Lang and in what way?
TH: I currently use my 36 D for feeding my family as well as catering the occasional party for family and friends. I have fed up to 40 people in an 8-hour cooking session with ease on my Lang.
Lang: What features do you like best about Lang?
TH: The things I love about the Lang include, its build like a Tank (I was an Army Tanker). The reverse flow is highly efficient and produces excellent results time after time It retains heat so well, that fire management and holding a constant temp is a breeze. You could cook with a candle in this rig! It's efficient—I cooked for 40 people in two full cooks, over an 8-hour period and didn't break a sweat!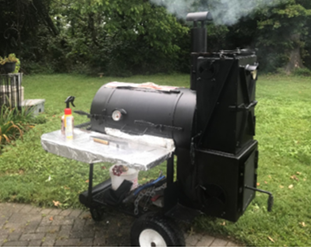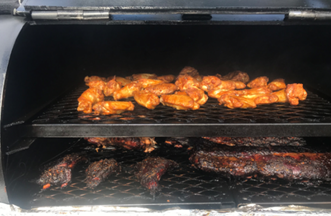 I also cooked in 30-degree weather without having to live by the firebox to keep it at temp. (Tim named his Lang: Locomotive Breath).
Lang: What would you say is your main goal as a chef?
TH: To continue to produce delicious and quality food for my family and friends while expanding flavor profiles and different types of dishes. Ultimately to compete and place in the Memphis BBQ circuit.
Lang: What are the favorite meals you like to prepare and why?
TH: Anything and everything! I've cooked whole hogs, ribs, pulled pork, brisket, chicken, meatballs, salmon, trout, bacon, pork roll, pizza, scallops, mac 'n cheese, baked beans and plan do even more. I love the flavor it gives the food and I love sharing my cooking my family friends!
Lang: Are you in competition?
TH: That's my next challenge! I'm making the connections and preparations to compete in the Memphis in May BBQ festival and working on my Korean BBQ flavors and sauces.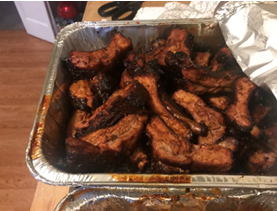 Lang: What can you share about the BBQ community as a whole?
TH: By and large the BBQ community is a great group of people. We who are passionate about this lifestyle are always willing to share recipes, tips and ideas. And while competition can be fierce at the end of the day we can all sit down and share a great meal!
Can you share a recipe with us?
I'll share my wife's favorite:
Grilled Salmon with Citrus Salsa Verde.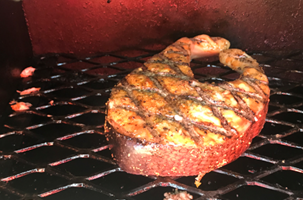 Ingredients: Salsa:
2 large oranges
1/4 cup extra-virgin olive oil
1/4 cup fresh lemon juice
1/2 cup chopped fresh flat-leaf parsley
2 scallions, finely sliced
3 tablespoons chopped fresh mint leaves
2 tablespoons capers, rinsed, drained and coarsely chopped
2 tablespoons orange zest
1 teaspoon lemon zest
1 teaspoon crushed red pepper flakes
Sea salt and freshly ground black pepper
Salmon: 4 center cut salmon fillets or steaks
2 tablespoons amber agave nectar
Kosher salt and freshly ground black pepper
Directions for the salsa: Peel and trim the ends from each orange. Using a paring knife, cut along the membrane on both sides of each segment. Free the segments and add them to a medium bowl. Add the olive oil, lemon juice, parsley, scallions, mint, capers, orange zest, lemon zest, and red pepper flakes. Toss lightly and season with salt and pepper, to taste. Set aside.
For the salmon: I cook the Salmon in my warmer box. With the main chamber at 250 degrees, my warmer is usually around 190 to 200 degrees. Brush the grilling rack with vegetable oil to keep the salmon from sticking. Brush the salmon on both sides with the agave nectar and season with salt and pepper, to taste. Smoke until fish is about 130 degree internal temp then flip once and cook till 145 degree internal temp. It should flake easily and be cooked through. Allow it to rest for 5 minutes. Spoon the salsa verde on top of the salmon or serve on the side.
Ko-Rican Sauce/ marinade (Korea & Puerto Rico fusion) – good for ribs and chicken.
2 tbs Paprika (Spanish or Hungarian)
2 tbs oregano
2 tbs chili powder
2 tbs Madras curry powder
¼ cup sea salt
½ cup white vinegar (rice vinegar)
26 cloves garlic minced
½ cup olive oil
Directions Combine paprika, oregano, curry powder, salt vinegar and oil and whisk well till fully blended.